OPEN YOUR MIND
FEED THE CHILD'S SOUL
GIVE AND YOU WILL RECEIVE
A project that has got my heart
For the past ten years I have been in a world of leaders, personal development, and management. At home as well as in the world I have been training successful leaders and businessmen and I have been personally present at the birth of international projects. I live in the world of education online strategies, and leadership. I believe that sharing my success with the weaker ones is right, human, and very necessary. Particularly when it deals with the most vulnerable group, which is children. I believe that when you give energy out, only then you can receive energy back. You give, and it shall be given to you.
Successful leaders all over the world donate for beneficial purposes and charity at least 5% from their income.
We do it in order that everything is in balance, in harmony, and in flow. It is the law of giving and receiving. The more you give, the more energy flows, and the more you get.
I like to help and for a long time I have been looking for a project that would address me so much that I could publicly support it. The project called Nourish The Children (NTC) came my way. It is not any charity, but an initiative, which uses business principles to resolve child hunger in a long-term, sustainable way. It is about the connection of production, nourishment, and education for children.
Maybe now you are saying to yourself WHY should I join?
I cannot tell you your WHY. I can and I will be glad to share my reasons.
''You may think that our efforts are just a droplet of water in the sea. It is a big misconception. We are the power of good. Make a move forward, which will cause large changes, and believe me that GIVING IS THE BIGGEST REWARD THAT YOU CAN GET." Peter Betyar
Sustainable, long-term, functioning system…
Porridge is produced locally, from local raw materials. Thus, it increased employment as well as the agricultural education of the adults. People work at the land to harvest the crops and make a nutritious porridge under the supervision of specialists. Everything is financed by a private sector in the form of buying the porridge, as mentioned. Of course, charity connections and sponsor gifts also play a role.
And one other thing – only those parents who send their children to school will receive porridge for their kids. And that is exactly what is the key about this project. Education increases awareness, decreases unwanted births, and thus also the pointless multiple deaths of children and infants. For me this is a great interconnection. All parents rather choose the porridge and send children to school than watch how their children suffer from hunger. Without this concept it would really be difficult to get kids to school and consequently to increase the standard of living. For me this is the key. Just feeding the children would not resolve the problem as such.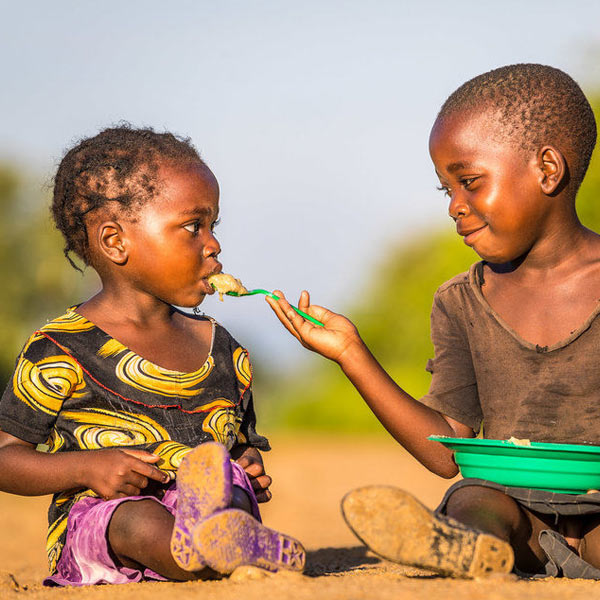 1 package of porridge to feed 1 child for the whole month  
1 month = 30 full days of nutritious food for 1 child
Often, I am contacted by companies and organizations, which need help. For a long time, I have been looking for a project that is functional, sustainable in the long-term and supports the most vulnerable group, which is the children. I love children and I am very much aware that I live in a country with large abundance.
I thank for ABUNDANCE every day.
To have food, drinking water, clothes, warmth, books, free education, is not a matter of course for everyone these days. I am fully aware of that.
If we have some pain, we can visit a doctor, we have medicine, pharmacies. We literally live in comfort, abundance, and well-being. Right now, very probably you are holding a smart phone, a tablet, or a notebook in the value of several thousands, and you are one of those lucky people on this planet, who experience abundance. If you feel like having a chocolate, you can open it. If you feel like having a crunchy pizza, you can order it. That is the difference between you and the children in Africa. They die of hunger and they suffer from insufficiency and poverty. That is why the world needs awareness.
Why are there still many of those in our society who are not so aware and are not grateful for the abundance in which they are every day?
I recommend to all people that they visit places where there is great poverty. Where to have food, drinking water, clothes, light, warmth, books, and education is not at all a matter of course.
We live in a country, where there is running water when you turn the tap. Unfortunately, there are countries where people pray and plead for this type of well-being. Are you still complaining?
Already for some time I have been giving children in Malawi porridge every month. In one of the poorest countries in the world, where children suffer from hunger, poverty, and diseases. Malawi is a country where children are taken as a working force and where children give birth to children.
It is useless to focus on why the situation is Africa is as it is or to seek who's fault it is. On the other hand, it is necessary to share a bit of what we have and do it because we feel to. In order that people can live better lives and eat regularly. I was inspired to do this activity by Tony Robbins, one of my mentors. Tony devotes a large part of his income to incomes for charity and beneficial purposes. He inspired me and now I am inspiring You, and deep in my heart I long for this to become a message that is carried on by everyone and forwarded further, connecting to this.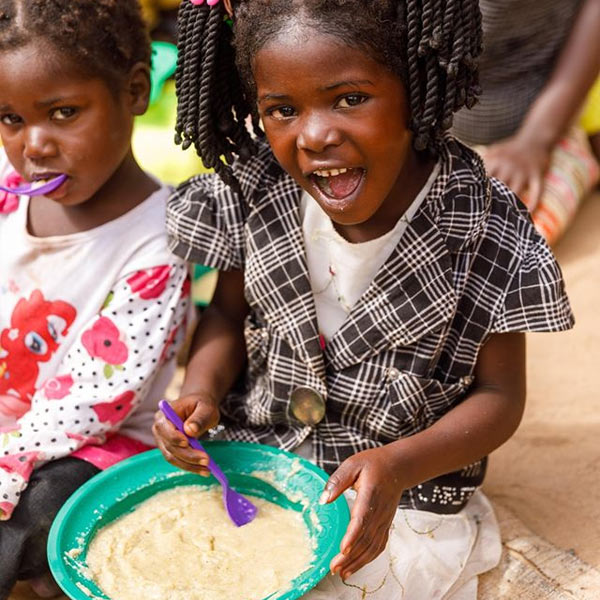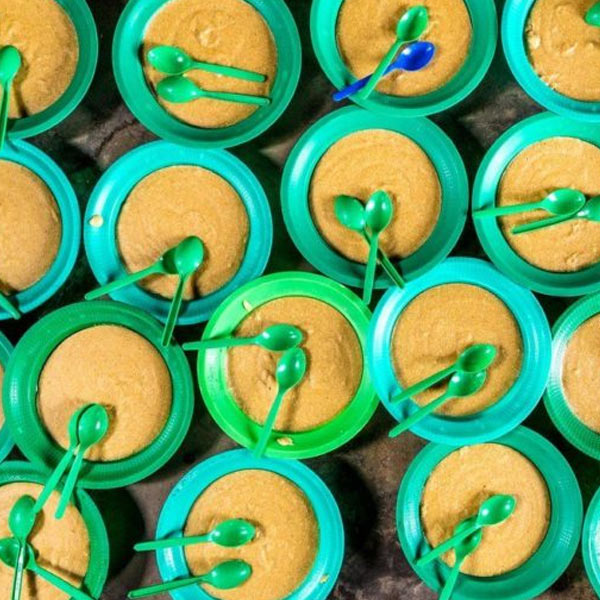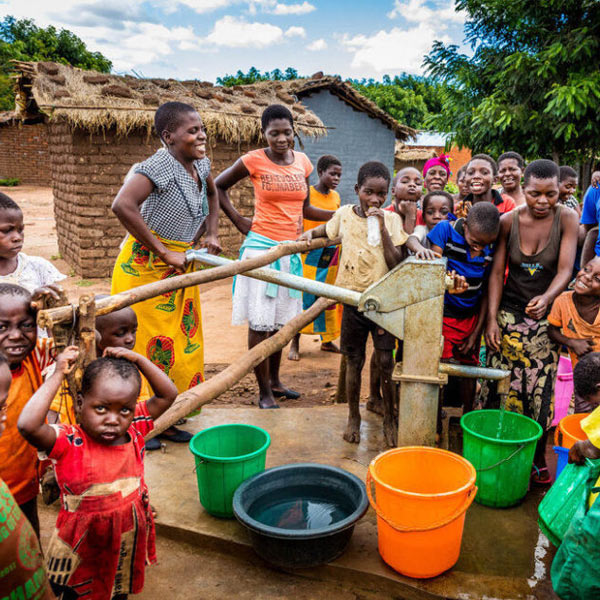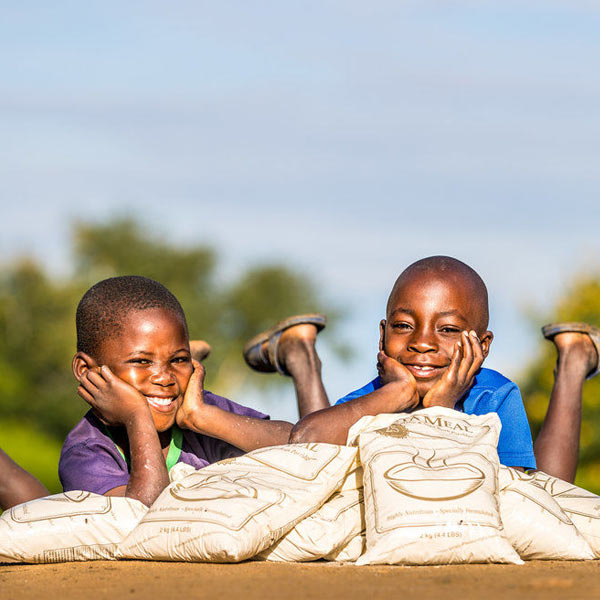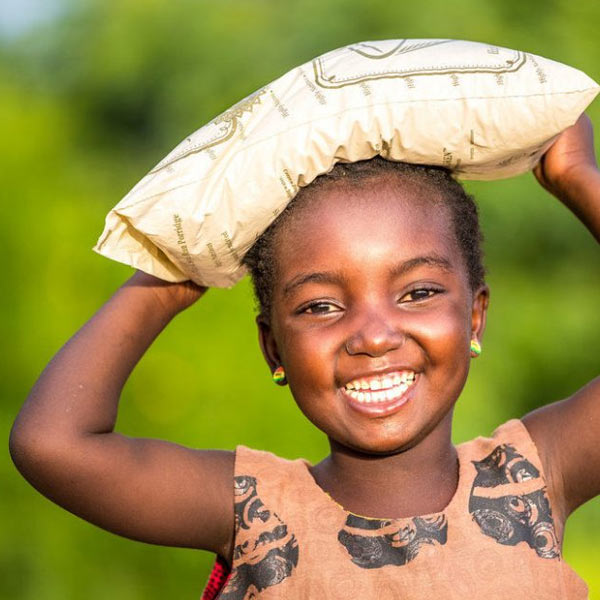 What will you give to children by your donation?
Undernourished children are missing the key nutrients in their nutrition, which may hinder the development of brain, skeleton, and immune system. VitaMeal porridges have been created as a result of long-term research and experience. Their composition was made especially for undernourished children. Their development was contributed to by specialists for child undernourishment in third world countries.
It is a vegetarian meal not containing milk and allows a simple use by adding other ingredients based on the customs and tastes of various cultures. Each package contains 30 child portions, which makes one nutritious meal per day for 1 child for the duration of one month.
Contents of the VitaMeal product:
- balanced ratio of carbohydrates, fats, proteins, and fibre
- essential fatty acids needed for a healthy development of brain, healthy skin, and immunity
- electrolytes essential for the maintenance of the right balance of liquids in the body and the function of muscles
- 25 basic vitamins and mineral substances, e.g. Vitamin A for good sight and immunity as well as nutritious substances supporting healthy growth and development of the muscle system
It is a worldwide problem
Information from the worldwide food programme:
- bad quality of nutrition causes almost half (up to 45%) of death for children up to 5 years, which is more than 3.1 million children per year
- 66 million children at school age go to school every day hungry. In Africa itself it is 23 million.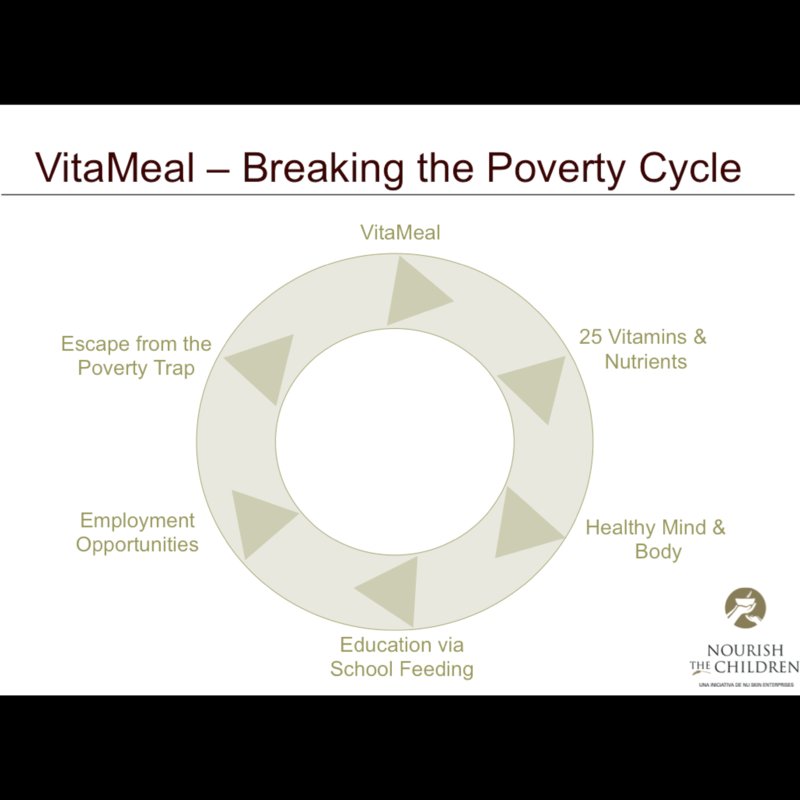 Imagine our planet as one large anthill. If the ants said they couldn't do anything because they are too small, it would certainly be so. But they will not, and they will build something that is hard to believe. :)
Only because they do not give up and they get into work. All of them. You can contribute as well. Your decision will also influence those who will contribute too. That is the cycle of life.
The world suddenly becomes a better place for life.
LET'S GIVE A HELPING HAND RIGHT WHERE THEY ARE AT HOME AND THEY HAVE THEIR ROOTS. THE SITUATION WILL NOT IMPROVE BY ITSELF, LET'S JOIN AND HELP!
THEY CAN GET OUT OF THE CYCLE OF POVERTY ONLY IF THEY HAVE ACCESS TO FOOD AND EDUCATION.
Good quality of energy intake in the form of porridge will provide their development in all aspects. Physical, psychical and mental. It is necessary to have a good quality energy intake. Human body can work only with a regular food. When we are satiated, the brain can think and receive new information. As simple as that. With the purpose to break the chain of poverty at places like Malawi. This project does exactly what I am describing.
I wish us and our country that we don't ever have to experience this. Let's enjoy the ABUNDANCE we have and support people who need our support and help every day. I believe that this project gets to as many people who understand the energetic flow of abundance and support it from their heart. And if you are now reading these words, believe me that it is not a coincidence, and this was meant to reach you. Open your heart.
I WANT TO THANK A LOT TO ALL OF YOU WHO HAVE AN OPEN HEART. YOU ARE ANGELS WHO "JUST" DON'T HAVE WINGS. WE CONTINUE TO LIGHT UP THE WORLD, IT IS NEEDED MORE AND MORE.
You certainly understand the law of Cause and Effect. What you give, you get. Sometimes it comes back immediately, sometimes in a month, year, two, or 5 years. Many of my friends confirm that and they say that everything comes back to us. Whether in the good or the bad. Every help counts and I am grateful for that.
I WISH US A LOT OF HUMBLENESS, GRATEFULNESS FOR ABUNDANCE, LOVE AND COLLECTIVE RESPONSIBILITY. WE ARE ALL TOGETHER, WE CREATE ONE COLLECTIVE CONSCIOUSNESS. WE STRENGHTEN LOVE INSTEAD OF FEAR.
LET'S OPEN OUR HEARTS!
Now I have a question for YOU. Are you with me? Are you joining?
If you are, I would like to reward you with a gift for You to strengthen more the energy of ABUNDANCE. From my heart I will give you the LEADER EDUCATION PACKAGE in the value of 700 EUR, which shall help you become a successful leader on the way to your success. The road to success does not at all have to be long if you open not just your heart but also your mind and will be ready to listen to new thoughts and information and start applying them. You can find more on the link below.
I know that in my surroundings there are many people with an open heart who have the same mind set to ABUNDANCE like me and that is why I send this project out into the world believing that it will help as many children as possible. That is why I ask you with humbleness and my question to you is
ARE YOU JOINING ME? YES PETER, I AM JOINING YOU. 
Do you have any questions?
Write to me and I will be happy to reply  :)
Are you interested in the project more than just to donate porridge?
Write me, there is never enough of those who help :)
Together we can talk about it.
I want to thank to all the givers.
With love, sincerity, and gratefulness,
Peter Betyar
The goal for the month of January 2021 is feed up to 100 children. Join to us. Open your heart. Give a porridge.
Let's do it!
Until end of January 2021 remains